Case Study: I Changed Careers in My 50s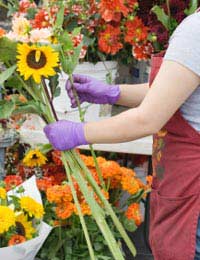 Christina, 52, had dipped in and out of work while she raised her children. Having trained as a secretary she realised that she now wanted a more rewarding career.
"The catalyst for me was seeing my two children go off to university. They were so excited about their courses and were leaning about such interesting subjects. It sounds awful, but as much as being happy for them I also felt quite jealous. When I left school I trained as a secretary and worked in London in my 20s. It all felt very glamorous at the time and I enjoyed the work until I gave it up an had my children.
"After that I picked up part time work here and there but it was all very much just a means to an end and my priority was earning some money and fitting it around the kids. It never bothered me that much but when my children left home I had a lot of spare time and wanted to fill it with something I actually cared about."
Choosing a Career
"I wasn't sure what I wanted to do, or if it was even possible at my age so I sat down on the Internet and started to do some research. I soon found that there are lots of opportunities and all sorts of courses that I never knew existed. I also decided to use a life coach who was really helpful. She helped me go through what I enjoyed, what I thought I was good at and what kind of career I would like. She also talked to me about my personal goals and development and made me more confident about the future."
Eventually Christina struck upon the idea of floristry. Having done it as a hobby in the past she was excited to think that she could get paid for it.
"I had often done the flowers at church and loved arranging them but never though much more of it. Then when I was talking to my life coach I suddenly realised that I could start my own business. I found some courses at local colleges and went along to their open days. I was really inspired to hear about other mature students who had done the same thing and signed up to a course.
On Course
"The course lasted three months and was quite intense but really good. As well as the practical element, they also taught us about running a business and marketing. There was a mix of ages but everyone got on really well and I found it very supportive. As part of the course we had to do work experience, which I found a bit weird but was actually one of the best bits as I got a great insight into the business.
"Now, a year and a half later, I love my job. I found a part time position in a local florist but I am also setting up my own business supplying flowers for weddings. I find the work so rewarding and miles away from tapping away at a keyboard in an office. My eldest child has now graduated and it feels great to be embarking on our new careers together."
You might also like...