Training For A Career In The Media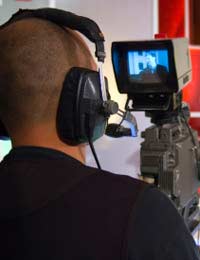 The competition for jobs in the creative media and arts sector is fierce but with commitment and perseverance, it is possible to break through. It is a very broad sector and the range of jobs is substantial. Broadly speaking, the types of career you'll be looking to pursue will either fall into one of three categories - creative, technical or managerial.
Those with a desire to be creative may go on to pursue a career as a journalist or writer, as a painter or sculptor or perhaps as a radio or TV presenter or as an actor or you may choose to go into a field such as advertising or PR, for example. However, these long standing 'traditional' creative media roles will always be extremely competitive and, whilst formal training can help, there is always likely to be an element of good fortune and 'being in the right place at the right time' or 'in the know' with people.
Another way to get your foot in the door often comes with starting at the bottom and even sometimes offering your services free of charge, e.g. as a runner on a TV or film set but even there, competition can be fierce. The industry is not all about making your name in front of the camera however and, with the ongoing high-tech developments in areas such as computer games development, digital media and online, the outlook for technical careers within this broad field has never been brighter. Skills like graphic and computer aided design are highly prized.
Qualifications
Your career progression within the creative media and arts sector very much depends upon which area you're focusing on but there are plenty of media related degrees on offer and you'll have a head start if you go via the A level route followed by an appropriate university course. There is no straightforward route however so you may opt to take NVQs or BTEC nationals and Skillset is an organisation which has plenty of advice and resources on its website to give you a more comprehensive picture of what types of careers are out there and the types of skills and qualifications you need.
Don't Make The Mistake Of Aiming Too High Too Soon
One of the biggest mistakes made by those looking to enter the creative side of the industry is to aim too high, too soon. Yes, whilst many would be creatives might think they're worthy of a place on, say, a BBC training course, the important thing to note is that setting your stall out solely to enter a large corporation is fraught with difficulty simply because the competition is so intense. Therefore, many candidates who may well be perfectly suitable will be turned down because of the sheer pressure of numbers which, in turn, could force them to turn away from pursuing their chosen career path. In other words, the industry is one which calls for you to be extremely resilient and prepared for knockbacks.
The good news is, however, that as the industry as a whole grows apace, there are hundreds of smaller companies springing up all over the place which could well reap the benefit of your skills and enthusiasm which could well provide the springboard from which you can spread your wings later on.
Be Willing To Embrace Change
The other key aspect common to pursuing any career within the creative media and arts sectors is to be prepared to accept constant change. Both creative trends and technological breakthroughs mean that you should always be looking to update your skills all the time and to look to pick up as many specialist and transferrable skills as it's unlikely you'll simply pursue one job for the entire duration of your career. You may even find in some cases that you'll possibly have to combine a part-time job in an entirely unrelated industry with a part-time or even unpaid role within your chosen career until you can achieve a more significant breakthrough.
Some Typical Jobs
Some typical roles within this extremely diverse sector include:
Newspaper/Broadcast Journalist
Actor
Media Researcher
Photographer
Artist or Sculptor
Musician
Radio/TV presenter
Camera Operator
Computer Games Developer
Graphic Designer
You might also like...