Training For A Career In Healthcare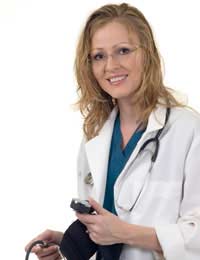 The range of careers within the healthcare industry is vast and no matter which particular area you intend to focus on, you will need to undertake some kind of training. It may come as a surprise to learn that the NHS is actually the third largest employer in the world so there is always a demand for suitably qualified staff although you are, by no means, restricted to pursuing a career through the NHS. In addition to private healthcare, e.g. BUPA hospitals, a career within the healthcare sector might be pursued via the armed forces or within schools and colleges.
Qualifications
You can obtain NVQs to level 2 and 3 in the likes of Health, Health and Social Care, Dental Nursing, Childcare and Pharmacy and the 'Skills for Health' website is very useful for finding out about the full range of training opportunities and apprenticeship schemes which are available. Foundation degree courses combine coursework with work-based learning and you will usually need to have some relevant vocational qualification to get onto such a course. They will usually take around 2 years to complete on a full-time basis and then if you want to obtain full degree status, you can top up your FD course with another year of full-time study. For those who wish to reach the higher echelons within the medical profession - becoming a doctor, for example - be prepared for a long period of study. After completing a degree course, you'd probably be looking at around 4 years at medical school and your studies might take even longer than that, depending on what area you choose to specialise in.
Personal Qualities
In addition to the qualifications you'll need to obtain to pursue a career within the healthcare industry, you'll also need highly developed communication and interpersonal skills if you're working with patients directly as well as other personal attributes such as tact, diplomacy and the ability to solve problems and to make sound judgements based upon medical evidence. And, depending on what area you specialise in, you should be prepared to work long hours which might include working a shift pattern throughout the duration of your career.
Other Careers Within The Healthcare Sector
Not all careers within the medical sector involve working with patients directly. For example, the NHS runs a graduate management training scheme which covers areas such as finance, general management and human resources and there are also career paths which might take you into non-clinical work such as working within a laboratory in a research capacity.
Career Outlook
Your skills will be very much in demand if you enter the healthcare sector and, in many disciplines, it will also give you the opportunity to find work in virtually any country in the world should you decide that is something you'd like to do. But, be prepared for a lot of training which, at the highest levels, can take many years to complete.
Typical Jobs
Some typical roles within the healthcare industry would include:
Surgeon
General Practitioner
Nurse
Midwife
Hospital Porter
Pharmacist
Radiographer
You might also like...
I want to get admission in healthcare so I want duidance . I am 41 years old
None
- 5-Apr-19 @ 1:04 PM