Improving Your Graphic Design Skills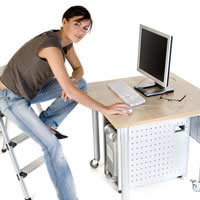 Most companies employ graphic designers on the strength of their existing skills as opposed to just their qualifications although most professional graphic designers will at least have a BTEC HND or a graphic design degree or a degree in another arts or design based subject. There are, however, a number of graphic design software packages which you should become adept at using as they are those which are the most commonly sought after by employers looking to hire graphic designers.
Popular Graphic Design Software Packages
You'll need to be constantly updating your skills as new and improved graphic design software packages are developed but, at present, the most commonly used programs include:
Photoshop
Quark Xpress
Illustrator
Flash
3D Studio
Freehand
Acrobat
Director
Dreamweaver
If there are any of the above that you've no working knowledge of simply because your employer uses one or a combination of more of the other programs, it's still well worth learning them all as you'll never know which programs other companies might be using should you decide to change jobs and move to another employer. Therefore, my being multi-skilled in all of the most commonly used graphic design programs, you'll be improving your graphic design skills for work which will make you even more highly sought after.
Additional Training And Development
New technological advancements will occur on a regular basis so you'll need to keep abreast of all of the latest developments in graphic design which may make it necessary to learn new packages from time to time, although in some cases, you may be able to pick these up on the job. However, for further professional development, you can enrol on numerous courses which are run through professional bodies you can become a member of the Chartered Society of Designers and D&AD. In addition to the courses, by joining one of these professional bodies, it will also increase your networking opportunities which will be highly useful as word of mouth recommendation often leads to work offers in the world of graphic design.
Where Do Graphic Designers Work?
You can find graphic designers working in a wide range of business sectors. However, many of them find employment within the likes of advertising, PR, corporate communication, publishers, television, newspapers and magazines, local government, computer games companies and in television as well as in areas such as packaging. Smaller private companies are often the way in for most people. Here you can use your skills to build up an impressive portfolio of work and if you're fortunate enough to land a job within a larger company, you'll often find that you can reach the higher levels of the likes of senior designer, studio manager or creative director within 5 to 6 years. However, for those who are stuck in smaller companies or in larger ones where career progression might be somewhat restricted, many designers will often strike out on their own, form a partnership or set up their own limited company.
The emphasis these days is on real quality because, at the lower end of the spectrum, many companies can produce their own simple designs for the likes of stationery, for example, through the use of pre-installed computer software. However, those with the most advanced skills will continue to thrive providing that you're always looking to learn new skills and keep on top of the latest technological developments within the industry.
You might also like...