Taking Pet Obedience Classes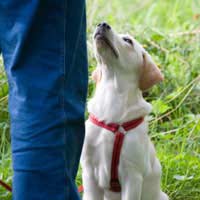 When it comes to pet obedience classes, we're talking about dogs here. There will usually be a dog obedience class close to where you live and you'll also find dog trainers who will work with you and your dog within your own home and nearby surroundings on a one-to-one basis. Therefore, in addition to both group and one-to-one training options, the type of class you'll be looking to enrol in will very much depend on the level of the training and obedience you'll be looking to achieve with your dog. A prime example of this would be where training a dog to be a guard dog will very much differ from training your dog to become a good, trustworthy and family oriented pet.
Group Training Or One-to-One Training
When considering dog obedience classes, therefore, the first thing you'll want to decide is whether you're looking for group training or one on one training. That will very much depend upon your own feelings and can also be determined by your perception of the nature of your dog. For example, whilst you'll obviously get more out of a group session in terms of being able to socialise with other dog owners whereby you can share your experiences (both good and bad) and perhaps exchange useful tips and even arrange to go out walking together with your dogs, you might feel that you don't have the confidence to do that, especially if you have a dog that tends to get out of control at the mere presence of other dogs or one which has clearly been given the opportunity to become the dominant force in its relationship with you, the owner.
However, for the most part, even if you have a dog whom you fear might lose all sense of control within a group setting, that shouldn't put you off group classes as reputable and professional dog trainers are usually able to cope with most types of anti-social dog behaviour and nip it in the bud very quickly so it may still be worth you having a chat to them first if a group setting would be your preference. If, on the other hand, you'd prefer one-to-one training for whatever reason or you're unable to find a group class that will take you, just be prepared for the fact that it will, inevitably, be more expensive, although you might well feel that the intensity of the focus on your dog will be far more likely to reap its rewards in the long-term.
The Types Of Training
Another aspect you'll need to consider is making sure that the class or training fits the requirements of what it is you're hoping to achieve as many dog trainers will often run different courses aimed at different aspects of dog obedience. Examples of various different types of dog obedience classes might include the following:
Puppy socialisation - getting your puppy to feel at ease around other dogs
General everyday training - whereby your dog learns to sit when told and taught how to walk to heel, how to respond to other dogs, adults and children etc.
Obedience trials - classes which are far more intensively focused on obedience training in order to take part in competition
Specialist disciplines - such as you'd find in agility training e.g. jumping over hurdles, trick training, heelwork to music etc.
Visiting A Class First
You'll find plenty of resources both on the internet and in your local Yellow Pages which will give you details of dog obedience classes in your area. Obviously, you may need to look a little further afield if you require training in specialist disciplines or if you're looking for one-to-one training as these services may not be available locally everywhere. Then, once you've got a few options in mind, it's often a good idea to attend a class without your dog first. This will give you a good indication as to the kind of atmosphere you can expect and to determine whether or not it will suit both you and your pet.
It's also a good opportunity to ask the trainer any questions or to discuss any concerns you might have. In particular, you'll want to ensure that the training methods and principles of the dog trainer are ethical, positive and kind. You should steer clear of any trainers which use choke chains or where you perceive them to be quite rough in their approach. If you want to ensure that the dog training class has a good reputation a good way of doing this is to see if they are a member of the Association for Pet Dog Trainers (APDT) and to talk to other members of the class and ask them for their opinions. Of course, there are very highly respected dog trainers who aren't members of the APDT but speaking to fellow class attendees who have been taking their dog for some time would be well advised to give you a good idea of what to expect.
You might also like...
All dog owners should take their animals to obedience classes. They're worthwhile because they give you greater control over the animal and a closer bond with your pet, which can result in fewer strays. It also pays dividends when you're walking your dog, both on and off the lead and less barking and fewer fights - something you and the neighbours will appreciate!
Jean
- 4-Jun-12 @ 11:46 AM