Home Making and Design Courses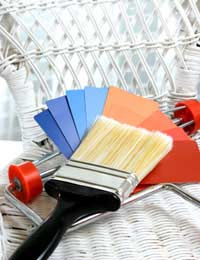 Whether you're simply looking for inspiration and to obtain some new skills which you can put to good use around the home or you intend to pursue a career in interior design, you'll be spoilt for choice with the diversity and sheer number of courses that are available in areas such as home making and interior design. For example, you may wish to specialise in the likes of feng shui or perhaps you want to understand about interior lighting or about soft furnishings. Wherever your interest lies, there will be courses you can do both on a part-time or full-time level either at night school, college or even by distance learning.
Types Of Courses Available
The type of course you'll do will usually depend on the reason you're doing it for. There are degrees courses for those who wish to pursue a career in interior design whilst you can also undertake NVQ level qualifications in the likes of curtain making, soft furnishings, interior lighting and flower arranging. There will also be many informal courses and classes you can take for those who may simply not need a qualification but who just want to gain more of an insight into the ways in which you might be able to make your home more appealing and aesthetically pleasing.
What You Will Learn
The knowledge you'll gain as the result of attending a class or going on a course related to home making or interior design will very much depend on the type of course you enrol upon. In general terms, however, you might learn how to plan and design for an empty space or perhaps look at ways in which you can alter the style, decoration and arrangement of an existing space which might incorporate furniture layout, colour schemes, window treatments and soft furnishings. Lighting design is a popular topic whilst, these days, areas such as eco-friendly design and homes which capitalise on the use of information technology for things like remotely operated lighting and heating systems etc are attracting a lot of interest. Current trends and fashions within home making and interior design are also high up on the list of priorities in terms of the types of courses people choose to go on, in order that you are up to date with the current fashions and trends in so that you can create your own home in a contemporary, yet individual, style.
Advanced Courses
Whilst many adults will choose to enrol upon a course which is pretty basic in nature and meant more to increase your knowledge and, perhaps, provide you with some inspiration which you can then use to your advantage in redesigning the look, feel and mood of your own living space, there are other courses which will teach you all about the history of various architectural and cultural styles and fashions then will bring you right up to the present day and teach you about design drawing and how to work with computer-aided design (CAD) software.
Other Practical Aspects
In addition to the creative element of a home making or interior design course, you will also be able to find courses which will combine all of the above with the practical aspects of interior design/home making which will include things like budgeting, costing and estimating, project co-ordination etc.
You might also like...