Improve Your DIY Skills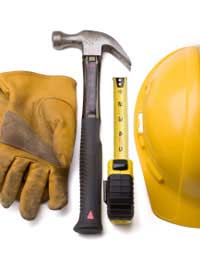 You only have to visit your local DIY superstore of a weekend to discover just how popular DIY has become. Everybody is looking to make some home improvements at some time or another even if that's only to do a bit of decorating whilst many DIY enthusiasts will tackle far more complex projects. It's certainly true that tradespeople who work in areas such as plastering, plumbing, painters and decorators, joiners etc. are getting more and more expensive and people often find that it's cheaper in the long run to incur the expense of buying a few tools and doing it yourself. In addition, whilst most people will usually have planned for a specific DIY-related project and budgeted for it whether they're going to do it themselves or get a professional in, what about those emergencies if you don't have the skills or knowledge? For example, what if you suddenly get a burst water pipe in your house or your toilet suddenly starts to leak? The fact is that it's very useful to be able to call upon some basic DIY skills that you have 'in your locker' to minimise the cost of calling in the professionals. There are those who might simply dismiss the whole idea of DIY simply because they feel they don't have the natural ability to undertake even the most routine tasks but this isn't really an excuse and there are plenty of short basic courses you can fit in over an evening or two per week or at the weekend to get you started.
DIY Carpentry
You can learn the basics of hanging doors, fix skirting, how to erect a fence or put up a garden gate etc as well as learning all about the various tools that would be needed for each project and how to use them correctly.
DIY Plumbing
Whilst there may be some jobs for which you'll probably want to get a qualified plumber in - when you need to install a new boiler, for example - a basic DIY plumbing course will enable you to tackle the less complex jobs at far less a cost than if you were to call a plumber in. For example, you could learn basic plumbing skills which will help you with things like installing a new bathroom suite to repairing and/or replacing leaking pipes, repairing a radiator to cleaning or unblocking a drain etc.
DIY Decorating
DIY decorating courses will teach you how to paint without leaving streaks as well as how to hang wallpaper quickly and correctly. You can learn how to cut and paint ceramic tiles and how to use silicone sealant to seal a bath or washbasin.
DIY Electrics
DIY electrics is slightly more complex in that unless you know exactly what you're doing, any project you carry out where electricity is concerned has the potential to be dangerous. Furthermore, recently introduced legislation has forced homeowners into ensuring that any electrical installation that is carried out in the home is done so by professionally certified electricians. However, you can still learn the basics such as replacing a socket, a light switch or fitting or installing ceiling lights, for example.
None of these courses are too labour intensive and are designed more for people who lead busy working lives and who just want to learn a few basic skills when they have a bit of spare time in order that they can carry out their own home improvement projects at, say, the weekend or in the evening or alternatively, to pick up a few skills to be able to respond to an emergency.If you're unsure of going to college or night school to learn these skills, there are numerous resources on the internet including plenty of DIY advice sites which often contain audio and video examples of how to tackle specific DIY projects but, whether you're an enthusiast or not, having even just a few basic skills across the board could ultimately save you a lot of money in the long run.
A few words of caution, however, is that if you feel you haven't the skills to undertake a specific job, particularly when it comes to electrics or plumbing, don't attempt it yourself but call out the experts as saving money should not come before household safety.
You might also like...
I would like to do lots of thing for our society .
Tony
- 4-Aug-19 @ 4:22 AM
@Tracey - I'm sure you have other talents to make up for it. We all have things were not so good at and things we excel at. My son is dyslexic - but really good at art. You find many dyslexics excel at sports too. We all can't be good at everything, so find joy in what you are good at and try not to undermine yourself.
Ria77
- 13-Jul-18 @ 9:23 AM
I am dyslexia and I give up when I do not understand how to do it I get upset I get frustrated I forget what I am learning in other words I am just thick dump lazy slow
Tracey
- 12-Jul-18 @ 2:05 AM
Hello just need an advice how to start a Diy training as matured adult very confused about making decisions.
Biggy
- 5-Oct-15 @ 9:42 PM