Case Study: I Improved My Literacy Skills to Help My Kids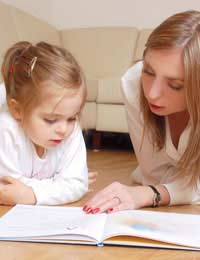 Samantha, 28, was never very interested in learning when she was at school. It wasn't until she couldn't help her children with their homework that she realised she needed to improve her own skills.
"School was never something that I was bothered about. I wasn't a bad kid but learning was never really encouraged in our house and it was looked down on if you tried too hard. By the time I got to senior school I was way behind the other kids and rather than look stupid because I couldn't do it, I just used to joke around. As the years went on it seemed too difficult to catch up. I managed to scrape a few GSCEs in more practical subjects but my reading and literacy skills never caught up.
"When I left school I got a job in a local supermarket and found that I was much better at work than at school. I progressed quite well and my boss wanted me to go on a management training course but I was too scared of being shown up because of my reading."
Role Model For My Children
Around the same time, Samantha became pregnant with her first child and went on to have two more. Being a mother was a role that she excelled at and has always been determined that her kids will be better educated than her.
"From the time that they were little I was always teaching them new things and they are all so clever that I want them to do well. When they were younger I could keep up with all the stories and stuff but when the eldest one got to about seven I really began to struggle.
"It was embarrassing and I wanted to be a role model for my children and be able to help them, not have them teaching me. It took me a while to admit to anyone that I had a problem but when I did it was like the flood gates opened up."
Improving My Literacy
"I found out about some adult learning courses at the local college and plucked up the courage to go along one evening. I thought they would look down on me but the tutors were so encouraging. I found loads of other people in the same situation as me and nobody has judged me for being so old and knowing so little.
"I am still not where I want to be but I am working hard at it. I am finding it much easier to help my kids with their homework and I think it is good for them to see their mum trying to improve herself. I have started working part time back at my old job and now have the confidence to apply for the management scheme. I wish I'd worked harder at school but I can't change that now. What I can do is work on making mine and my children's futures the best they can be."
You might also like...