Adult Dyslexia Assessment Explained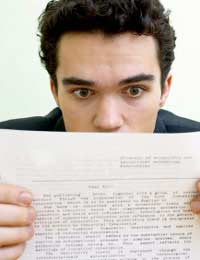 Whilst many adults may experience difficulties with learning and studying, one of the most often asked questions is "am I dyslexic?" To be able to determine this accurately, you would need to go through an initial process of screening and assessment. Even before that, however, you can find many checklists online which will give you an indication of whether or not you do have problems related to dyslexia.
Checklists
Online checklists are basically comprised of simple 'yes' and 'no' answers and contain around 20 questions, plus a couple of additional tests. Here is an example of the kinds of questions you'll be asked:
Do you confuse your left with your right?
Is reading a map or locating an unfamiliar place confusing?
Is your spelling poor?
Do you find it difficult to take down phone messages and pass them on correctly?
When using the telephone do you tend to mix up the numbers when you dial?
Do you find it difficult to recite the months of the year backwards?
Screening and Assessment
To find out if you may be a dyslexia sufferer, you should contact your local dyslexia association. You'll be able to find this out by contacting the British Dyslexia Association's helpline number on 0845 251 9002. Alternatively, you could make an appointment with a chartered psychologist but choose one who is up to date with all relevant dyslexia knowledge and is experienced in making assessments of adult dyslexia.
The assessments can take between 2 to 3 hours to complete. This isn't like an exam and there are no right and wrong answers. Basically, the assessment is there to allow the assessor to gain an insight into how you think and how you go about learning and processing information.
At the end of the assessment, you will receive feedback about your strengths and weaknesses and following on from this, you will receive a written report.
Costs
A private assessment for dyslexia can cost between £100 and £400. As an adult, unless you are in full-time education, you may not be eligible for NHS funded assistance. However, there are exceptions to this, especially where it is affecting your health so speak to your GP first.
The Benefits of Being Assessed
There are a number of reasons why undergoing a dyslexia assessment is useful. Firstly, it will identify key problem areas and you will be told how you might improve your skills in certain areas. It can also enable you to obtain help and even funding if you're at college or at work. In certain cases, it can even enable you to be granted more time in exams if you're studying. Furthermore, a lot of people find it difficult to explain the problem to others and the report will help you to be able to do that better.
Education and Work
If you are an adult in education who has discovered that you suffer with dyslexia and it is affecting your learning, you can contact your college's disability officer who will be able to offer you practical help and guidance. In the workplace, you should speak to your immediate supervisor or health and safety officer to see if any adjustments can be made to the way you work in order to help you to do your job more efficiently.
And for those who are seeking employment and finding it difficult, make an appointment to see your local JobCentre Plus' Disability Employment Advisor. For example, there's the 'Access to Work' programme which is a government funded initiative aimed at helping people with disabilities obtain work.
A dyslexia assessment is also a useful safeguard in the event that you are discriminated against at work. Dyslexia is a learning disability so it has the same protection as any other kind of disability under the Disability Discrimination Act.
You might also like...
My son was diagnosed as being dislexic. At uni.two years agohe is still there and enjoying life now.. He has the help and support All this time at school was never tested. Or high school. I new something was wrong but every one said he is OK. Now myself would like to be tested. I was told I have some traitsreally need to find out its affecting my mental healthis it possible for an older adult to get tested...
Got told I had dyslexia and I was in Spain but they didn't give me anything to prove it now I need to do my driving test and it would help a lot if I had something to say it had dyslexia I've learnt to live with it but it would be nice to have the test so I can get some help thank you
Maz
- 19-Jun-20 @ 11:39 AM
Please I urgently need an assessment I work for the NHS Full time.
Caro
- 10-Feb-20 @ 9:50 PM
My husband is turkish and his English is gd. But he struggles with reading and understanding words in english and turkish. He is struggling to complete his theory test for his motorcycle as he doesn't understand what the words mean or say. The only way they will provide him with support is if a doctor provides something saying he needs the help or dyslexia. Will this assessment help for that. Thank you
After years of struggling my so was assessed at college and finally diagnosed, and received excellent support. His dyslexia effects information processing and has caused significant mental distress manifesting as OCD and anxiety, which he's being treated for. He's applied for support at Uni and DSA but we've been told the evidence we have isn't enough. I'm a disabled lone parent and simply haven't got the money to pay for an assessment. Is there any help out there to fund it. He starts in 3 weeks
Ger
- 27-Aug-19 @ 11:49 AM
I would like a dyslexia test - as I need to know my strengths and weekends so that I can find some traing or solutions and support for my dyslexia.I would like to know how it affects me on a daily basis.
Miss Joe
- 4-Aug-18 @ 12:55 AM
I would like to have a test because I need it for work and other things thanks Fernanda Care
Ferfi
- 7-Jun-18 @ 10:26 PM
I need it for work and other things Thanks c
Ferdi
- 7-Jun-18 @ 10:24 PM
I would like to get tested for dyslexia and also dyspraxia and be able to get my eyes tested for the colour thing too Thank You Briony
Briony
- 15-May-18 @ 6:28 PM
@ex - it is very much worth you going to your GP who will be able to help.
KarisBV
- 23-Mar-18 @ 12:41 PM
I would be so grateful if you really could get back to me because I forgot to add I;m unemployed so I have no way of paying the full fee. Can GP point me in right direction for assessment.
I just desperately need to get hold of a dyslexia assessment. I also struggle with numbers. Is it worth it me trying my GP because it is making me very stressed. I'm affected every day by dyslexia.I'd be grateful for any advice.
@Mrsp65 - you should really visit your GP. Losing our memory and not being as mentally alert can create challenges as we get older. However, if these changes are noticeable and affecting your daily life, then you should seek a second opinion. Dyslexia in later life, often caused by a brain trauma or injury, is called 'acquired dyslexia'. Youshould also have the test suggested in the article if you want to find out for sure.
ExploreAdultLearning
- 2-Jul-15 @ 2:39 PM
I have never been dyslexic but I am 49 and in the past year maybe year and a half, I have noticed I am becoming more and more dyslexic. With letters and numbers. It is extremely frystrating for me. I have had a lot of head trama over the years and about a year ago accidently gave myself yet again another severe concussion, Could this be the cause of my condition and is there anything I can do about it?
Mrsp65
- 29-Jun-15 @ 8:20 PM
I am now 40 and have had some not so nice experiences at work , due to not understanding, and lack of communication, from managers. due to my dyslexia I have self teached myself beause I have been to embarristed to go get help. but now I feeling well today stonger, tomorrow could be one of my bads days. I am hoping to do my maths again as I am level age 6 in math last assememt in 2004 . My boss and past bossat work , I have told but not sure what they think a lot of talking behind my back makes my feel worse, they don't seem to understand? and I wish they talk to me, I feel underminded most of the time by my work colleages, my life story experience in work place hell on earth, alien atted?? anyway once I do my assessment I can at lease show them then they will need training?
clairey
- 27-Jan-14 @ 8:37 AM
I have some symptoms of dyslexia, I am an adult and have previously avoided situation or jobs that requires a high level of written English. I am wondering how I might be able to get a comprehensive dsylexia test so I might be able to reach my full potential. I have always previously thought that my problems were due to English not being my first language but I have recieved the majority of my education in England and I really want to get to the bottom of my issues. I have I am not stupid or lazy but some problems I have I really feel I shouldn't have. People often say I say or write things the wrong way round. Please can someone help?!
Sally
- 20-Sep-13 @ 9:59 PM
I have been diagnosed with dyslexia tendancies via my optician and occ health department, access to work have recommended that I have an psychological report for dyslexia so I can get support at university. Could you please let me know how much this will cost and if I can get funding. Thankyou Michele 01429 820062
shelley
- 15-Aug-13 @ 10:44 AM