Preventing Reoffending Through Adult Learning
By: Suzanne Elvidge BSc (hons), MSc - Updated: 3 Sep 2010
|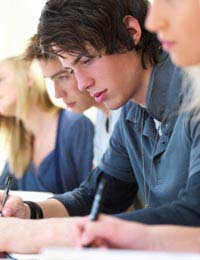 Many people who are in prison have not received a good education. Whilst in prison, there are opportunities to learn, and this can reduce the chances of reoffending and improve people's quality of life after release.
Why Prevent Reoffending?
According to the Department of Business Innovation and Skills, it costs around £65,000 to re-imprison someone who re-offends, and keeping them in prison costs about £40,000 a year. Re-offending also damages the people who are victims of these additional (and preventable) crimes.
People who are in prison don't contribute to society by earning and paying taxes, and by supporting their local community and economy. Because of this, any way to stop people re-offending is very important, both for society and for the country's economy as a whole.
Why Educate Prisoners?
Educating prisoners can reduce their chance of re-offending by around one third to one half. People who end up in prison are much more likely than the general population to have few or no qualifications, have a very low reading standard, and/or to be unemployed.
Learning Skills For Work
Studying while in prison can give people the opportunity to get qualifications that will help them get a job when they are freed, and being able to go into a job can reduce the chance of them becoming homeless and/or re-offending. However, to be useful, prison study must provide specific, accredited qualifications that can be recognised by potential employers.
Vocational courses can include work experience for some prisoners, either out in the community or within the prison environment. The work may be unpaid or paid, and will add skills to a CV, improve self-confidence and self-worth, and help people learn to work as part of a team and cope in the workplace and the outside world as well.
Academic Study
Many prisoners have low levels of education – study in prison could begin with simple skills such as literacy, numeracy and basic life skills, and move up through GCSEs and A levels to degrees and postgraduate study. As well as improving the job opportunities on release, these courses will help with social skills and thinking and coping skills too.
Learning To Change Behaviours
As well as learning academic subjects or work skills, prisoners can learn about how to change their behaviour – for example, how to cope with and manage anger, how to solve problems, how to maintain healthy relationships, and how to improve their thinking skills. There are also training programmes that can help sex offenders or violent offenders not to re-offend.
How Can Prisoners Study?
Some prisons have tutors coming in from outside, but these tend to be to teach a group of people and can only offer a limited number of topics. The variety of distance learning courses has improved the opportunities for prisoners to study a wider range of subjects and to a higher level, with undergraduate and postgraduate courses, leading to Bachelor's degrees, Master's degrees, or even a PhD.
Studying online through a security-screened interface that provides access to only specific sites gives prisoners access to a wealth of books, journals, articles and other educational resources. Supervised email allows them to keep in regular contact with their tutors without ever having to meet.
You might also like...