What Are NVQs?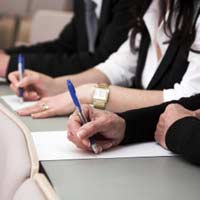 NVQ stands for 'National Vocational Qualification' which, as its name suggests, is a nationally recognised qualification which can be tailored to a specific role within particular business sector or industry. As each NVQ is specific to the area of business for which it was intended, it is a qualification based upon competence within a certain sphere and, therefore, the focus tends to be more centred on obtaining practical skills which are job related in order that you can learn the relevant skills to be able to do a particular job effectively. They are suited to those who may be starting their working life from scratch and who need to obtain the necessary skills to allow them to apply for certain positions and they are also appropriate for those who might already have a particular job but who may need additional knowledge and skills in order to progress further.
Which Subjects are Available?
There are more than 1,300 NVQs to choose from and they are often very tightly focused to the type of job you want to do. Therefore, they are very useful for candidates wishing to pursue a career in a particular field and they are also a good benchmark for employers, given that they will be able to assess a job applicant's credentials for a particular vacancy, based upon the relevancy of the NVQ and the level achieved as NVQs are ranked between levels 1 and 5 with 1 being the lowest. The subjects, therefore, are vast in number although they broadly cover the following industries and business sectors:
Sales, marketing and distribution
Food, catering and leisure services
Business and management
Health care
Manufacturing, engineering and production
Property and construction
Do I Need To Have GCSEs to undertake an NVQ?
No. In fact, NVQ levels 1 and 2 are classed as the equivalent of a GCSE with level 1 being the equivalent of GCSE grades D-G and level 2 equal to GCSE grades A-C. Therefore, you do not need to have any previous academic qualifications to enrol on an NVQ course. They are open to both young people and adults alike providing you are working or if you're at college and you have the opportunity to go on work placement or if you're working part-time whilst continuing with your studies. If you are on an apprenticeship scheme, you can also study for a level 2 or 3 NVQ qualification simultaneously and there are also certain schools which will give you the opportunity to undertake an NVQ whilst you're still at school.
How Long Does The Course Last?
There is no set period by which you need to finish your NVQ. Some NVQs take longer than others to complete and you also have the flexibility to complete your NVQ over a period which suits you and which fits in with any other commitments you might have. Some NVQs can be completed within a few months done full-time but, on average, an NVQ tends to take around a year to complete at levels 1 and 2 and about two years at level 3.
How Will I Be Assessed?
Although they are, by their very name, vocational as opposed to being academic in nature, some of the courses will involve you taking notes and also completing written assignments and it will be these, combined with the practical assignments of the course that will determine if you have passed or not. Therefore, an assessment will test both your practical performance and your knowledge and understanding. The grading system basically evaluates your competency at each level as either being 'competent' or 'not competent' for the level you are being assessed for against the set criteria you'll need to meet in order to be classed as 'competent'.
For many, an NVQ provides the gateway into a particular job that they are interested in whilst obtaining competency at level 3 or above can result in job opportunities in which you can supervise or manage others or, indeed, it can be the qualification you'll need should you then decide to go on to university or take some other advanced course elsewhere. Equally, those who are unemployed can often find that by embarking upon an NVQ course and completing it successfully, it's often the stepping stone to landing a job and getting off benefits.
You might also like...
Den - Your Question:
I I'm interested in doing a NVQ 2 - I am looking into going into elderly care. How do I go about it?
---
Our Response:
National Careers Service advisers can provide you with information, advice and guidance on skills, learning and work, please see the link
here
.
ExploreAdultLearning
- 16-Aug-18 @ 12:04 PM
I I'm interested in doing a NVQ 2 - I am looking into going into elderly care.How do I go about it?
Den
- 15-Aug-18 @ 2:37 PM
Hi im currently unemployed even thought Im 35 yesrs old and Iv been a plumber for 19 years, mainly because of the fact i didnt go to college so dont hold certificates so dont have my cscs card. Which is mandatory these days. I want to do my gas exam so i can either obtain a cscs and work with gas on site or go on the gas safe register and do domestic work. But i cant afford it and dont know i can get a grant or funding off can you please help? Or do you know anywere i can do the course cheaper? All my quotes have been £6000 thanks
Micky
- 18-Mar-18 @ 12:31 PM
Joanie - Your Question:
In September I applied through a children center to be a volunteer running play groups I am in the process of Induction Training and already can't wait to get started and I am also undertaking NVQ level 2 in Volunteering this will be my first qualification I hold and it certainly won't be the last, I am a full time mum anything is possible
---
Our Response:
We're really glad you are following your heart and we hope you attain all the qualifications you study for.
ExploreAdultLearning
- 9-Nov-16 @ 12:04 PM
In September I applied through a children center to be a volunteerrunning play groups I am in the process of Induction Training and already can't wait to get started and I am also undertaking NVQ level 2 in Volunteering this will be my first qualification I hold and it certainly won't be the last, I am a full time mum anything is possible
Joanie
- 8-Nov-16 @ 7:41 PM