Basic Computing Skills for Work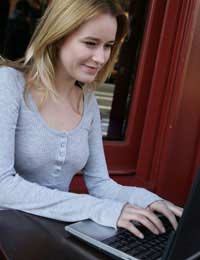 Many job advertisements these days will ask for 'computer literacy' as part of the skill set they need in the job description. But what exactly is 'computer literacy'? Many people say they are computer literate if they're able to surf the internet or even if they know how to type in chat rooms but this is far from being computer literate. Even the most basic computing skills for work go way beyond knowing how to get around the internet and, therefore, it's important that you equip yourself with, at least, the basic skills in terms of obtaining some knowledge and practical experience of using some of the most basic software packages. Here are the main ones you need to become adept at using before you can even say that you have basic computing skills.
E-mail
You may have previously sent e-mail through a hosting service such as Hotmail or Yahoo which, at least, will have given you some understanding as to how it works. However, if you're going to be applying for a job in which sending and responding to e-mail is going to form part of your day-to-day duties, you should undertake a course in Microsoft Outlook or Microsoft Outlook Express for Office 2003 or 2007 as they are going to be the most commonly used programs you'll find in the workplace. You'll learn how to prioritise mail, how to ask for a read receipt and how to attach things like documents and photographs to an e-mail.
Word Processing
This allows you to produce letters or documents in a similar fashion to using a typewriter and is the most basic of all computer skills you should equip yourself with, apart from e-mail. You'll be taught how to create paragraphs, indentations and learn all about spacing and the manipulation of fonts. Microsoft Word for Office 2003 or 2007 should be your starting point. As you familiarise yourself with the software more, you'll also learn how to incorporate tables and charts into a Word document.
The Internet
Just because you've surfed around a few websites, don't take this to mean that you understand how to get around the internet. In a workplace environment, for example, you may be asked to use the internet for research purposes or to source some particular information so it's important that you know things like what a search engine, keywords and hyperlinks and how they work in order to source the information you want as quickly as possible.
Spreadsheets
Knowing how to create and use a spreadsheet will be imperative if your work involves any financial calculations or sifting and filtering entries which contain figures. You might also be asked to create formulas so that the software will automatically do the calculations for you. The most commonly used software program in the workplace will be Microsoft Excel for Office 2003 or 2007, although many companies will use dedicated accountancy software such as SAGE.
Databases
Even if you're only working as a data inputter, it's important you have a basic understanding of databases. You may be asked to input customers' names and addresses, phone numbers, details of orders and dates from a list you've been given into a database and you may subsequently be asked to send out a letter to all of these customers tailoring each one with the correct name, address and salutation, .e.g. Dear Mr Smith, Dear Mrs. Brown and so on. Fortunately, knowing how to use the mail merge function will be imperative in getting this kind of task done quickly. The most common program is Microsoft Access for Office 2003 or 2007. In many cases, however, where it's the data input side of things which is important as opposed to doing any mailings, many companies use Microsoft Excel to function as a database instead.
Other Useful Applications To Learn
As you become more familiar with using the basic tools above, you can increase your knowledge in areas such as creating slideshows using the likes of Microsoft PowerPoint and you'll become more familiar with peripherals such as how to store files onto a pen drive (memory stick) or how to burn them to a CD-ROM. You'll also learn how to transfer to and from your computer files via infra-red and Bluetooth.
Some offices will, of course, have their own variations on the Microsoft software. For example, if you're working in an environment in which they only use Apple Macintosh computers, they may well use their own software and have a completely different operating system, although they are 'Windows compatible' (Microsoft) these days. However, Microsoft remains far and away 'the King' at present so familiarising yourself with the basics of the software above is a must if you truly want to say that you are computer literate and have basic computing skills for work.
You might also like...
The ECDL (European Computer Driving Licence) is a globally recognised qualification that will indicate to potential employers you are computer literate. The ECDL covers all the applications listed above and also can be studied at home.
learnnewskills
- 3-Jul-16 @ 4:18 PM
Great article and very apt as the application areas covered are vital in the modern workplace.
paulb
- 14-Jun-14 @ 10:34 PM