The Adult Learning Grant
By: Suzanne Elvidge BSc (hons), MSc - Updated: 22 Sep 2019
|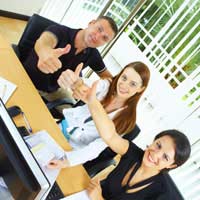 Not everyone manages to get all the qualifications he or she wants or needs at school, and starting to learn again as an adult may be the perfect way to top these up, perhaps to get a job in the first place, gain a step up in an existing job, or move into a new career. Many people have financial and family commitments that mean it might not be easy – what about the people who want to learn but really can't see how it could ever be affordable? The Adult Learning Grant (ALG) provides an allowance of up to £30 a week, which might be just enough to make all the difference
What is it?
The Adult Learning Grant is a grant of up to £30 a week, which is paid during term time. It is for students who are older than school leaving age, and is designed to help with the costs of studying, such as travel, books, study materials, or other expenses. It is paid for up to two years, with an extension of one further year in some circumstances.
Who Can Claim?
The Adult Learning Grant is for people who are living and studying in the UK, who are over 19 and who are studying full time (this averages out as more than 12 hours a week, 150 hours a term or 450 hours a year). To get the grant, a student must maintain a good attendance record.
The year before applying for the grant, the student must have earned less than the threshold income the previous year (in 2010, this was a single income of up to £19,513, or a joint income of up to £30,810 if living with a partner). The amount paid out is between £10 and £30 a week, and depends on annual income.
People working part time and studying may still be able to get the Adult Learning Grant, even if they are also claiming Adult Education Bursaries, Working Tax Credit, or Child Tax Credit. However, they must not be getting any other government training allowances (e.g. New Deal, EMA or Apprenticeships) or other government grants, or claiming any of the following benefits:
Jobseekers' Allowance (JSA)
Income Support (IS)
Incapacity Benefit (IB)
Employment and Support Allowance (ESA).
What Courses Are Eligible?
Only certain levels of courses are eligible. To claim the Adult Learning Grant, students must be studying for a full Level 2 or Level 3 qualification for the first time. A full level 2 qualification is equivalent to five or more GCSEs (grades A to C) or an NVQ level 2. A full Level 3 qualification is equivalent to two A levels, a BTEC National Certificate/Diploma or an NVQ level 3.
How to Apply
In order to process a claim, the application should include a copy of a birth certificate, passport or driving licence, along with details of income or benefits for the previous year. The Student Services team at college should be able to help with applications. Applications can be made as soon as a place is confirmed – it is best to apply before the course starts, but payments can sometimes be backdated.
You might also like...
I am in receipt of Universal Credit. Do this disbar me from claiming a grant?
Linds
- 22-Sep-19 @ 10:59 PM