What Levels Can You Study At?
By: Suzanne Elvidge BSc (hons), MSc - Updated: 24 Dec 2012
|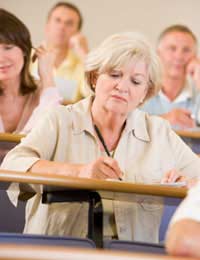 What Levels Can You Study At?
In adult education, it's possible to learn at all levels, from absolute beginners to postgraduate studies like Masters' degrees and doctorates. Once you get started, the sky is the limit!
Introductory Level
There are many courses designed for absolute beginners. These include academic and vocational subjects, as well as courses for people who want to learn something new for fun.
Starting to Get Qualifications
Some courses at introductory level do result in qualifications, which can be used as stepping-stones to further qualifications. These can be academic, vocation or skills-based.
Academic Qualifications
GCSEs
Academic qualifications start at GCSEs. A full time GCSE, studied at school or college alongside other subjects, usually takes about five terms. GCSEs can also be studied part time. GCSEs usually end with an exam, though some coursework may also count towards the final marks, depending on the subject studied.
A Levels
The next stage from GCSEs are AS and A levels. A full time A level, studied at school or college alongside other subjects, usually takes two years. A levels can also be studied part time. A levels come in two halves – the AS level, which can be used as a qualification in its own right, and then the A2 level, which studies the same subject at a deeper level. The AS level and the A2 level add together to form the full A level. There are about 80 subjects available at A level.
Bachelor's Degrees
It is possible to study for a Bachelor's degree as an adult, either full time or part time. A levels are the traditional entry to degree level study, but some universities, including the Open University, allow people to begin degree level courses without formal qualifications, either after doing an access course or by taking their life experiences and skills into account.
Post-Graduate Degrees
Doing post-graduate studies isn't just for people straight out of college – people study for Master's degrees and even PhDs as adults, both part-time and full-time, through many universities including the Open University.
Vocational Qualifications
Vocational qualifications are work-related, and can be general work skills or qualifications related to specific jobs. Vocational qualifications include BTECs and OCR Nationals, and usually combine theory and practical work, and perhaps some work experience. They can be studied full or part-time, and assessments are through assignments, case studies and practical activities, as well as work assessments. BTECs and OCR Nationals can lead to HNCs, HNDs or even degrees.
Skills-Based Qualifications
Skills for Life
Skills for Life courses help with reading, writing, maths and information and communications technology (ICT). These are assessed through tasks at entry level, and tests at levels 1 and 2.
Key Skills
Key skills are skills to help people get on in work, college school or at home. The six key skills are:
Communication
Application of number
ICT
Working with others
Improving own learning and performance
Problem solving
These are assessed through a portfolio or work and tests.
EXPLORE ADULT LEARNING IS FOR SALE.
This website is for sale [more info].
You might also like...