How Can Learning Improve a Community?
By: Suzanne Elvidge BSc (hons), MSc - Updated: 15 Sep 2012
|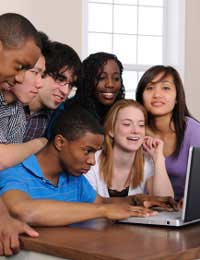 Most people look at learning as a way to increase their own skills and experience, but learning can help a community, not only by making practical changes, but also by bringing people closer together.
Learning For Practical Changes in the Community
Learning can help within communities by providing new practical skills, or reviving interest in old skills. These could be as simple as gardening skills to rejuvenate communal flower beds or to create a community allotment, or DIY skills to help elderly or housebound people around the house or do up a school or community centre. The skills could also be more advanced – for example eco skills to set up environmental projects within the community, such as a recycling and composting area, or a microgeneration plant using wind or water to generate power for a local area.
Learning For Ex-Offenders
It can be hard for ex-offenders to find their place in the community. Within a new area, there can be a feeling of mistrust if their history becomes known, whatever their offence. Within their old area, it may also be easy for them to get involved with the same groups of people as before, potentially making re-offending more likely.
Courses particularly designed for ex-offenders can help with these issues. These could be designed to give them support and teach them coping skills, such as anger management or communication skills, or to teach them practical subjects to help them get back into work, including office skills, and computer techniques. These could range from introductory courses teaching basic Internet and computer skills, to computer set-up and repair skills, or advanced use of a variety of technical computer software packages.
Learning For Children and Young People
In some areas, there aren't enough things for children and young people to do. This can lead to a perception of them hanging around in gangs and causing trouble, which can create friction and distrust within the community. Courses that are fun, but also teach useful and practical skills can give children and young people things to do, so 'keep them off the streets'. This kind of learning (preferably set up in a way that doesn't feel like 'school') can also help them to make new friends, get them to mix with other groups, such as older people or young people from different ethnic groups, and improve their relationships within the community. They might even enjoy it too!
Children and young people are more likely to want to join in if they can get involved with planning the learning – it might also be an opportunity for some of them to lead groups themselves, improving their leadership skills.
Learning That Gets People Together
Issues in communities can be caused by different groups of people not knowing and understanding each other. Some forms of learning aid the community by getting these different groups together, and helping them to understand each other. This might be people from different areas, different ethnic groups or religions, or different age groups. Examples of these kinds of learning groups include reading groups, writing groups, local history groups or fitness classes that include exercise for all levels of ability.
You might also like...