Training For A Career In Sport & Leisure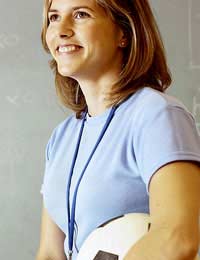 Working in sport and leisure holds an obvious appeal for many and, in many instances, it presents the opportunity to keep physically active and therefore to feel in great shape both physically and mentally or, on the leisure side, you might have the chance to combine one of your passions with a career.
Qualifications
There are many routes you can take which will lead you towards pursuing a career in sport or leisure. NVQs at levels 1 through 3 are available in disciplines such as Sport, Recreation and Allied Occupations, Exercise and Fitness, Leisure Management through to level 2 and you can reach level 3 in Achieving Excellence in Sports Performance. Over on the leisure side, there are a number of NVQs related to leisure and tourism. You can also take vocational qualifications to BTEC level in the likes of Sports and Exercise Science and in Sport and Leisure. These can be 'standalone' qualifications or can provide the gateway to higher education. Once you're talking about college and university courses, your options are vast with over 2000 courses listed by UCAS which are sports related alone, ranging from Sports Science degrees to Sports Engineering and Coaching.
Personal Qualities
You'll usually be deeply committed to a particular sporting activity or leisure pursuit to want to work within this sector. The ability to communicate effectively and to work as part of a team is crucial and, depending upon the type of profession you wish to enter, you may also need to be able to demonstrate motivational and leadership skills.
Career Opportunities
The time has never been brighter in terms of job prospects in the sports and leisure sector and with the Olympic Games being held in London in 2012, the drive for more qualified sports staff throughout the UK continues apace with the Government rightly placing physical activity high up on the agenda for people of all ages but especially with regard to the dramatic rise in the figures of childhood obesity.
On the leisure side too, the likes of art galleries, museums, concert halls and theatres have seen their images transformed as new modern buildings go up all over the country drawing in thousands of people who continue to be attracted to these leisure pursuits, especially those who try to maintain a healthy work/life balance. Then there are other career options which might appeal to you and fall under the 'umbrella' of sport and leisure. These would include things like working in a health club or within the growing betting/gaming industry, sports media, lifestyle consultancy and nutrition and much more besides. Also, people are living longer and there's an increasing demand for more sports and leisure provision as they stay healthier well into their retirement years. And, with the Government and private sector businesses planning substantial further investment, the opportunities are only going to continue to grow.
Typical Jobs
Typical roles within the sport and leisure sector would include:
Leisure Centre Manager
Sport Dietician
Sport Physiotherapist
Outdoor Pursuits Instructor
Theatre Box Office Manager
Theme Park Manager
Golf Greenkeeper
P.E. Teacher
You might also like...