What Is Vocational Learning?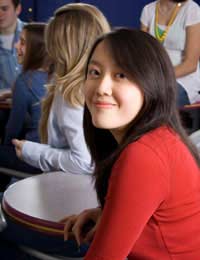 Broadly speaking, 'vocational learning' can be defined as any type of learning experience or activity which increases our understanding and the use of practical skills and/or knowledge that are of direct relevance to a particular job or role within a workplace environment, whether it be a paid job or a role undertaken as a volunteer. It will usually consist of one or, quite often, a combination of classroom based or distance learning and 'on the job', i.e. work based learning.
Vocational Learning In Education
Many people will feel that they are not cut out for 'academics' in the purest meaning of the word. By that, they'll often mean that they have neither the aptitude nor, indeed, any interest in learning things which, to them, have no real meaning or relevance to their lives.
A prime example of that would be where, at school for example, you had absolutely no interest in learning about the history of the Royal Family and could see no point in assimilating information about the likes of the Tudors and the Stuarts etc. which bore no relation to having any sense of purpose in your life. Of course, many adults who aren't interested in any kind of classroom-based learning can still pick up new skills that are vocational in nature simply by learning them 'on the job' so to speak.
However, for certain industries and specific jobs, it will be necessary to undertake some kind of vocationally oriented course to supplement on the job training. That doesn't necessarily preclude you from pursuing certain occupations just because the thought of returning to a 'classroom' setting fills you with dread. On the contrary, many people who would baulk at the idea of going to college or to some other type of training establishment are still often able to complete the more formal educational side of their training by doing a course at home through some kind of distance or e-learning course via the internet. Therefore, contrary to some people's perceptions, you can still undertake certain GCSE and A level courses along with things like NVQs, BTECs and even degrees and higher professional qualifications that are still vocational in nature as opposed to being purely academic.
Work-Based Vocational Learning
Where vocational learning comes into its own for many people is where they can become more knowledgeable and learn new skills through applying them in practical terms within a workplace setting and in a particular job function. Therefore, in many instances, the emphasis will be firmly placed upon applying any classroom or distance-based learning to an actual workplace scenario which, for many people, means that their learning has relevance and has a specific purpose to their lives. This means that they can use their existing skills and through a combination of learning and practical experience, they can become suitably qualified to carry out a particular job role.
Vocational learning has become extremely popular and has been the making of many adults who have undertaken it who may well have slipped through the net and been left either unemployed or in relatively low-paid, unskilled jobs as a result of their potential remaining untapped. It is certainly an option which is well worth considering if you feel that you're not particularly cut out for 'academic' education in the formal sense of the word, yet still harbour a passion to pursue a particular job which you feel would best suit you and one in which you could utilise your skills and learn new ones more effectively.
EXPLORE ADULT LEARNING IS FOR SALE.
This website is for sale [more info].
You might also like...