Vocational Qualifications and Changing Career
By: Suzanne Elvidge BSc (hons), MSc - Updated: 22 Dec 2012
|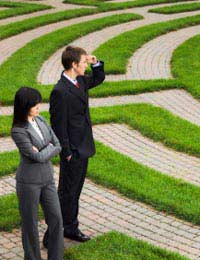 Feeling stuck in a job and want to make a complete fresh start, but not sure how? Looking for a job but not got the experience that employers are looking for? Vocational courses can be a good way to gain qualifications for a career change or a brand new career, and many can be studied part-time, while working, or even while still at school or college.
What Are Vocational Qualifications?
Vocational qualifications (also known as VQs), are practical, work-based qualifications, which have been designed in collaboration with employers. As well as learning a new skill, studying for a vocational qualification may also give people an opportunity to get some work experience in their new chosen area.
Vocational qualifications can be studied at college or at work. Vocational qualifications aren't just about getting a new job – the qualifications can be based on assessments in an existing job, to and can be very useful to get to the next step up in the company.
The vocational qualifications structure is changing during 2010, bringing in new vocational qualifications, which are designed to be more relevant to employers, and to allow a broader range of people to study for them. The different levels of the qualifications are now part of the Qualifications and Credit Framework (QCF). As well as the new qualifications, the framework still covers the existing qualifications, such as NVQs (National Vocational Qualifications), BTECs, City and Guilds, OCR Nationals, HNCs (Higher National Certificates) and HNDs (Higher National Diplomas).
Levels of Vocational Qualifications
People can study for vocational qualifications in units, and each of these has a 'credit' value, with one credit equivalent to ten hours of study. This means that study can be taken at an individual's own pace, and can fit around home and jobs. The credits build up into qualifications:
Award – 1-12 credits (10-120 hours)
Certificate – 13-36 credits (130-360 hours)
Diploma – 37 credits or more (370 hours plus)
Because the qualifications are recognised across the UK, it is possible to start a qualification in one part of the UK, and complete in another.
As part of the Qualifications and Credit Framework, vocational qualifications are available at different levels:
Level 1 – equivalent to GCSEs grades D-G
Level 2 – equivalent to GCSEs grades A-C
Level 3 – equivalent to A levels
Level 4 – equivalent to BTEC Professional Diplomas, Certificates and Awards
Level 5 – equivalent to HNCs and HNDs
Level 6 or 7 – equivalent to BTEC Advanced Professional Diplomas, Certificates and Awards
Level 8 – equivalent to a PhD
What Can You Study?
There is a huge range of subjects available to study, all of which are relevant to different kinds of work. Examples include:
Administration
Art
Business
Construction and property
Design
Distribution
Food, catering and leisure
Health and social care
Information technology
Media
Manufacturing, production and engineering
Public services
Sales and marketing
Science
Sport
Where Next?
Completing a vocational qualification may lead to a new job or a promotion, or to studying at the next level of vocational qualification. After completing a level three course, it's possible to move across to a higher education course in a related area, such as an HNC, an HND, or a foundation degree.
You might also like...