Finding Childcare When Studying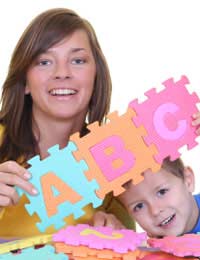 If you have children and you want to become an adult learner, you may wonder how that limits your options. Children are of course, a huge responsibility and a big commitment; however, there are ways in which you can fit your learning around them.
Different Study Types
There are different study types and routines available for adult learners. Some may benefit and suit you more than others. Read through to find out which study types fit your particular routine.
Studying at Your Own Pace
There are lots of courses available for you to study at home in your own time. These often suit people with children as there is no need for childcare every day while you go out to college or university.
Studying at your own pace is also beneficial due to the flexibility of studying this way. You may not be able to definitely commit to going to college at the same time every week. So, if anything at home arises out of the blue, you can just amend your study timetable as it suits you.
There are different types of home study: flexible study, open leaning and distance learning. Flexible study is when you book a time to go to a learning centre in your area when it suits you best. Open learning is a mixture of learning at a designated centre and studying at home. And, distance learning is when you complete the entire course at home, only going to a centre for exams and so on.
Learning While at Work
If you are happy with your current job, but would like to learn how to progress further, you can usually do so at work. If your company has a training department, a human resources area or you have a line manager; someone there will be able to tell you what you need to do and if training is available.
Learning With Your Children
There are course that you and your children can go on set up by the Pre-school Learning Alliance. This particular type of learning is extremely popular as you can see how your children learn. The types of courses that they offer are wide in choice; however, the most popular subjects are maths, literacy and childcare.
Learning as a Lone Parent
If your youngest child is under the age of 16, you are a lone parent, and you are either not working or working under 16 hours every week; you can get help with the Government policy 'New Deal For Lone Parents'.
You will be assigned a person al advisor that will assist you in looking for training, looking for new jobs with more prospects and help you work out your finances.
Childcare Options While Learning
If your children are still at home, as they are under school age, your childcare options are quite varied.
Childminder
A childminder will live in your local area and look after your children in their own home while you work or learn. Each childminder will have their own set fee, so it is important to discuss this before choosing a childminder.
Nannies
A nanny differs from a childminder as they look after the children in your home. You can choose to hire a nanny that lives with you or one that can be employed on a day to day basis.
Nurseries and Crèches
You may find that the college or university you are going to has their own nursery or crèche. There are those that are place in work offices, run privately or run by the local authority. You can check which one is right for you by visiting them first.
After School Clubs
If you have children that are in school full time and your course is at night, you may want to think about an after school club. These vary massively depending on where you live and what activities are available in your area.
Some after school clubs are available out of school term, making it easier for you if you are still studying in the holidays.
Sharing Duties
Don't underestimate your family and friends willingness to help. If you have friends that have children of their own, why not sort out a routine where you can look after their children and they do the same for you. This way, you know where your children are, who they are with and what they are doing – and you can relax and study.
Before you start to pay for childcare, check with your local authority or job centre to see you can get help with childcare costs. Depending on what income your household has and what benefits you are receiving, you may be able to study for free.
You might also like...