Learning For Pleasure as an Adult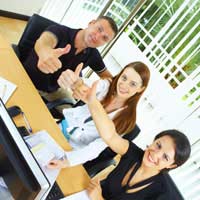 Many adults who might consider wanting to pursue some kind of learning course tend to often be put off as they're not particularly interested in gaining further qualifications nor do they feel that obtaining additional qualifications would be of much benefit to them. However, adult learning is not simply about academic and vocational qualifications and many adults choose to attend both formal and informal courses and classes simply for pleasure and as a means to gain some further knowledge about something they're particularly interested in or in order to improve their skills or to increase their knowledge and ability in their pursuit of a particular hobby.
Learning For Pleasure Can Change Your Life
For adults who have returned to learning for pleasure, many of them will point to the fact that it gave them a 'kick start' in changing their lives. For example, it's often been the gateway for people who may have been homeless, those who have just come out of prison or young offenders' institutes, or have been suffering from drug and alcohol misuse. It's also a popular choice for retirees or for people who may have become widowed but it's by no means restricted to just these groups of people in society. In fact, people who learn for pleasure span the entire social spectrum in terms of age and their social, economic and cultural background.
It's Not Just About College Either
Some adults would be put off by the thought of returning to college and, whilst many courses and classes for pleasure are run by college institutions and other training providers, you'll often see many which will be run in a smaller, more informal setting just within your local community centre or library. Furthermore, many adults choose to learn in a situation whereby they do so independently and arrange it privately. Examples of this might be where you visit a tutor's home to learn to play the guitar or to take up a foreign language, arrange some golfing lessons at your local club or attend a book reading club at a local pub. Taking it even a step further, there are thousands of adults who simply learn for pleasure at home by teaching themselves through following guide books, DVDs or by listening to audio material.
Learning For Pleasure Benefits Everybody
Whichever way you choose to learn for pleasure, the benefits are tremendous. You'll learn new skills and increase your knowledge about a particular subject or activity which may then lead on to a more vigorous pursuit of a particular hobby. It will increase your self-confidence and it's proven to have a significant impact upon reducing social deprivation, crime and poor health. Those who might have felt marginalised in society - the likes of ex-offenders, the homeless etc., have often stated that learning for pleasure made them wake up to the realisation that they could turn their lives around and that there was far more out there in terms of what they could learn than they'd ever imagined and that it had 'opened doors' for them. Retirees and bereaved spouses have pointed to the fact that learning for pleasure has brought a breath of fresh air into their lives and has enabled them to create a broader network of friends with whom they share a common interest as well as fill time productively where they may have previously been sat at home bored and, in some cases, even depressed.
NIACE is just one of several organisations where you could find out more about learning for pleasure as an adult but even if you were just to check out the noticeboard at your local library or community centre, the chances are there'll be at least one or two learning opportunities which might appeal to you.
The great thing about learning for pleasure is that you're only going to choose something which entirely suits your circumstances and which you're going to be interested in. Therefore, you're going to get such a lot out of it. After all, we all never stop learning in life so to actively pursue something which is going to give you pleasure ensures that there are only positives to be gained from the experience.
You might also like...